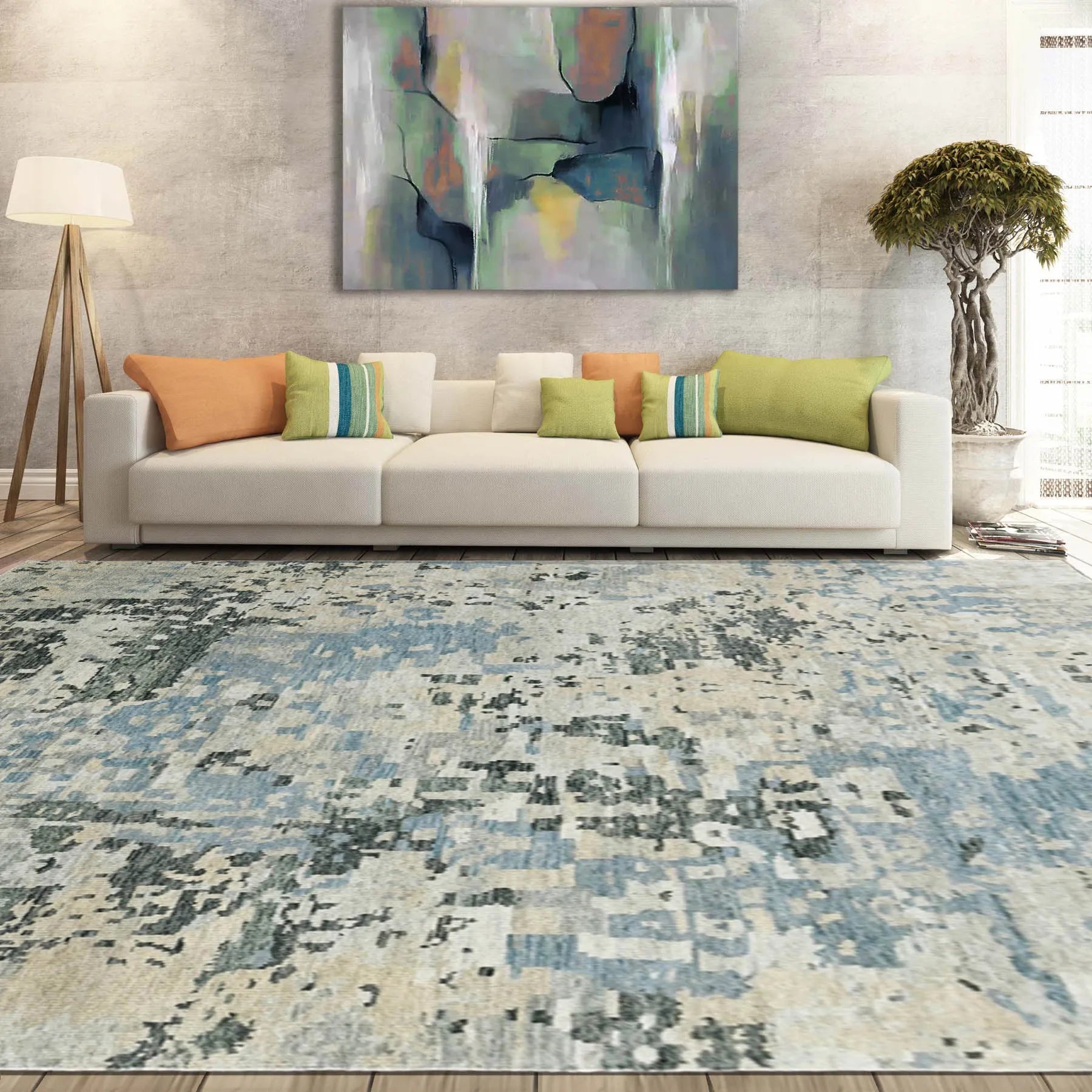 An area rug is the biggest weapon in your home décor arsenal. It can make or break your décor game. With the right rug, you can create a space that reflects your personality and unite disparate elements of your home décor into a cohesive whole. Rugs with exciting patterns, textures, and designs can be used to define or soften design spaces. But in a market flush and flooded with a profusion of rug styles, materials, colors, and textures, where do you even begin? Allow us to guide you in your design endeavors!
As 2023 hits its final quarter and 2024 seems just around the corner, let us consider a list of rug trends that are expected to continue and endure. This article has been put together to give you an idea of where rug styles are heading and what you can expect in the coming time. After all, rugs are an investment, and you want to choose a rug that not only lasts but serves you well as a design statement as well as a focal point to tie the room together.
NATURE RULES
Nature is the King this season. Creating home spaces inspired by nature is the word on the street. But what does that mean? Where do you even begin? On a very basic level, while a home should revel in the sights and textures of nature, there also must be an eco-friendly consciousness that runs through it. The current rug trends show a concern for the environment that is reflected in the attention to the materials, processes, and places that produce our rugs.
Eco-friendly rugs that use natural materials, organic dyes, environment-friendly processes, etc. are gaining popularity among both homeowners and interior designers. Natural fibers like jute, bamboo, and sisal are frequently co-opted to add depth and texture to design spaces. Choose rugs that reflect a conscious and mindful approach to nature.
On an everyday visceral level, bring nature in. You can include the warmth of the outdoors and the colors of the season in your home. Choose rugs that capture the colors of the seasons and textures of the outdoors. Earthy tones with warm natural undertones look beautiful anywhere. They add warmth and comfort to the rug. Dark natural colors like Mossy and Olive Greens are also predicted to rage in 2024. Since green is a relaxing color, such hued rugs mediate calm and recuperation.
Rashi Bajaj, founder of Carpet Couture, says, "' I see a great demand for corals and colors that signify freshness and appear closer to nature. For example, for corals, we are working with brighter shades of terracotta, orange, and cherry reds. The other palettes we are working with are fruity colors of lime green and yellow and beetroot purple.'
LAYERING RUGS
Layering Rugs is the practice of placing two or more rugs together. Layering rugs on top of each other creates a look that is both luxuriant and rich. It lends depth and dimension to spaces, previously left flat by the use of a single rug. You can use different rug materials, colors, and textures to arrive at a home feel that is more nuanced and authentic.
This layering of rugs pays great dividends in homes using open floor plans. They can be used to demarcate and zone spaces in an open plan. Certain spaces can be made livelier and cozier by layering the rugs.
This has economic implications too. It is more affordable to buy smaller rugs of superior quality than buying flat, big-area rugs. You can curate a more personal and authentic look for your space by choosing hand-crafted rugs that you can easily buy and layering them against big, neutral pieces. Think about the possibilities!
ORGANIC RUGS
Organic rugs are made from cotton, jute, seagrass, sisal, and other natural fibers. These rugs offer a unique blend of sustainability and elegance. They are a great way to introduce textures and organic living in your house. These rugs are hypoallergenic, free from harmful chemicals, and of superior durability.
Because organic rugs come in a variety of styles, textures, patterns, and colors, they are very versatile. From spiffy and modern designs to boho-chic patterns, these rugs can be used in a myriad of ways. Whether you want to add texture or introduce color into your interiors, organic rugs serve you well. They are primed to complement any décor aesthetic.
With minimal environmental impact, these rugs have a timeless appeal and work miracles for layering too. Color palettes in white, beige, brown, and ochre tones act as subtle counterparts to more decorative, patterned, and multi-color rugs.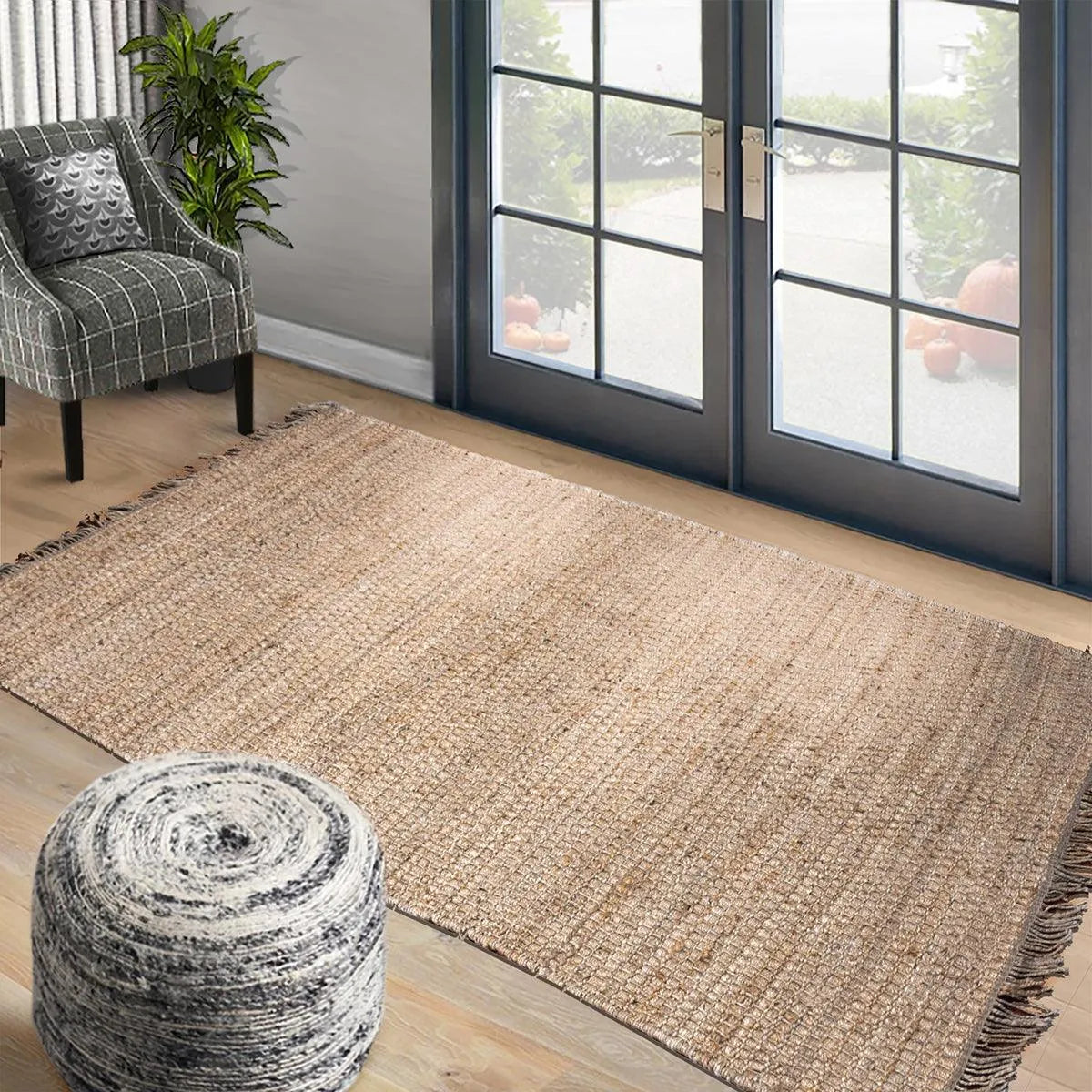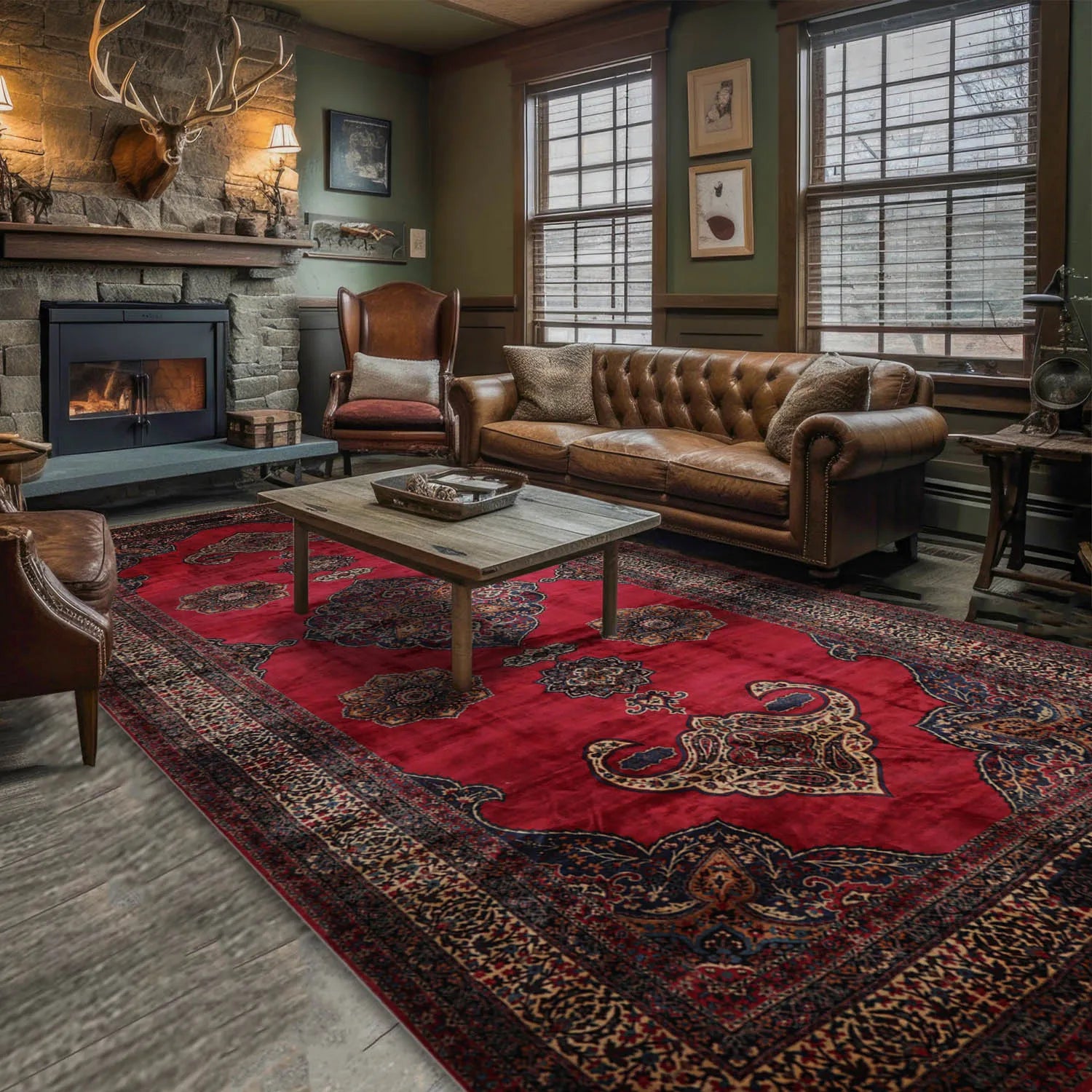 VINTAGE AND ANTIQUE RUGS
Retro and vintage décor aesthetics bring with them a sense of culture, history, and authenticity. They are unique, original and timeless. As Alexandra Gater, a stylist, home decor expert, and author of Own Your Space notes, "We've seen a continuation of a trend that's been around for a while now: tons of vintage [and vintage-inspired] rugs, particularly Persian designs…. These rugs often lean warmer in color with reds, oranges, and yellows as primary shades. They are beautiful pieces that provide the perfect contrast to a neutral-leaning room, or a cherry on top of a more colorful design."
As there is a growing trend for bold, maximalist, and authentic interiors, handcrafted rugs are in great demand. With that in mind, a distinct rug genre is developing that co-opts traditional designs and reinterprets them to suit modern design needs. For example, Turkish Oushak rugs and specific Persian designs are all-time favorites because of their inherent elegance and ageless versatility. Oushak and traditional geometric motifs and patterns are being adopted and reprocessed to feature rug styles as diverse as traditional and transitional to modern Arts and crafts. Such rugs are primed to add visual intrigue and dimension to your home interiors.
Furthermore, there is also a plethora of rugs that are classified as vintage-inspired. These new rugs undergo special treatment to acquire an aged patina or distressed look. They are a better option if you do not want to shell out a lot of money for authentic vintage and antique rugs. Over-dyed, distressed, and erased pattern rugs are rugs that are designed to look old from the start and suit dynamically different décor aesthetics.
70'S INSPIRED RUGS
Life comes a full circle and the 70's is back with arches, curved décor, and sanctuary spaces. It leans towards creating home spaces that speak comfort and relaxation. Color block designs, graphic patterns, geometric shapes, shag textures, and jungle prints in rugs are making a comeback. Or saying, they never left.
Color block rugs are trending and make floors the ultimate pièce de résistance of home interiors. This trend highlights the juxtaposition of combining two or more colors into a statement piece as floor art. Being dramatic in composition, they are best used in spaces with neutral tones.
Shags offering texture and tactile style are being embraced evermore. They combine different fibers and textures to introduce a relaxed shared space, that is both luxurious in appeal and soft, comfortable in feel. Similarly, animal print rugs can also be used to create visual intrigue and movement in home spaces.
Irregular-shaped rugs make a bold statement and stand out for their uniqueness. They are designed to be highly versatile and used in different design spaces of the house. Designer Tina Delia of Delia Designs agrees. "Unconventional shapes are all the rage right now," she says. "From geometric to abstract, homeowners are looking for decor that is unique." The interior expert also recommends opting for shapes and silhouettes that mimic those around the house.
BOLD-VIBRANT HUES
Incorporate bold colors in your home space. More color means more character so don't refrain from making a style statement with your choice of rug color. Revel in bright tones of colors like orange, lime green, red and yellow. While the Fall season in 2023 is set to trend Wheat, Blood Orange, Amber, Rust, and Emerald, embrace the Winter with Teal, Sapphire, Violet, Navy, White, and gray.
In 2024, the trend of bold vibrant hues shall continue. Do not be afraid to play with bright colors. The bright colors will add vitality and dynamism to your interior spaces. 'Rugs have gone through a huge revolution in the past decade,' says Rashi Bajaj, founder, of Carpet Couture. 'Gone are the days when modern rugs were restricted to beige and tones of grey. Designers as well as customers are experimenting so much with fresher hues.'
TEXTURED CARPET DESIGNS IN NATURAL COLORS
If you do not want to decorate with colors, do not worry. Textured rugs will continue to grow in popularity in 2024. Interior designers consider texture a critical tool in adding interest and depth to a room. As Olivia Wahler from Hearth Home Interiors, notes, "Materials like jute, wool, and sisal will also continue to be a neutral staple. We expect to see our rug designers playing with textural variations and designs a lot more in the new year!".
Natural materials like sisal, and jute combined with silk, bamboo, and wool produce interesting results. These rugs in natural and soft colors like beige, sandy, cream, and light straw colors reach amazing levels of textural variations that can be easily layered. Such rugs make great underlay rugs for a smaller vintage rug of choice.
COLORS TO CONSIDER
Interior designer Esther Lundstrom says, 'The favored colors for carpets depend on the style of interiors and the overall scheme you're working with, but earth-toned hues in general are favored for carpets.' Light earth-toned hues like ivory, beige, and taupe serve as a neutral background against which furniture and furnishings can be added to provide depth and interest to a room. They serve as a blank canvas on which you can place colors of the life you envision for yourself.
Sienna, amber, and terracotta are all warm shades that are predicted to be popular in interior spaces in 2024. As earth tones, these colors sit easy on the eyes and work well with any other color of furniture and furnishings. When you use lighter and warmer shades, it makes the space you are decorating appear cozy.
Yet, a word of caution before you zoom off to change your décor according to the trends: Do not be intimidated by these trends. The fact remains that you will have to live with the changes in your most private space, home. Regard these trends as a guidance, not a writ.